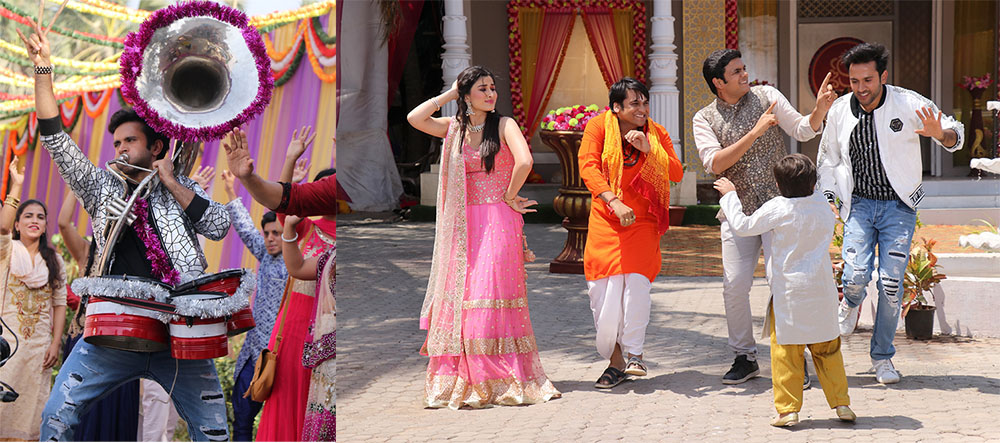 &TV's new show Shaadi Ke Siyape has been gaining audiences love with its' fun concept that revolves around Indian weddings in the presence of aliens followed by the siyapas that take place. The weekend dramedy that stars Alka Badola Kaushal, Bhavya Gandhi, Sheen Dass, Mishkat Varma and Rahul Singh has caught the audience's attention by showcasing weddings from all over India. In the upcoming episode that is set to air this weekend, viewers will observe a lavish Marwaadi wedding that midway goes through a topsy turvy turn putting college sweethearts Shaurya & Trupti(Gaurav Sharma and Kshitj Soni) in a spot.
Talking about the upcoming episode Sheen Dass says, "It is a very interesting episode where, 'love' plays an important role. It was fun shooting for this episode and see who Trupti gets married to. The way both the love interest enter a talwarbaazi competition to win over Trupti was amazing because the character Shaurya is extremely naïve and timid and to see him fight for the love of his life gives jitters but at the same time, it was hilarious to see them fight during shoot."
The upcoming episode will see the Shubh Mangal Savdhaan hall witness a different kind of Marwaadi wedding. With the entry of Shamser in Shaurya and Trupti's life, the wedding hits a roadblock. Shamsher, who is Shaurya and Trupti's college friend has over the years troubled Trupti in college and when he learnt about her marriage to her college sweetheart Shamsher, he wants to win her back. Adamant on his decision to get married to his sweetheart, he leaves no stone unturned to save his wedding. Looking at the entire situation, Viraat (Mishkat Varma) suggests having a talwarbaazi competition according to the Kshatriya tradition post which the declared winner gets to marry Trupti.
While Trupti is flabbergasted and doesn't want anything to do with Shamsher, will Shaurya manage to fight for the love of his life??
Who will Trupti marry, Shaurya or Shamsher?
Will good win over evil?
Tune in to watch Shaadi Ke Siyape on &TV from Saturday – Sunday at 8pm.