Music of the much-awaited Comedy Drama film "Murari The Mad Gentleman" was launched in Mumbai. Deepa Krishna Production No 1 ,Sunny Worldwide Films , and Jignesh Shah's movie "Murari The Mad Gentleman" Starring Asrani, Surendra Rajan, Sanjay Singh, Natalya llina, Kiran Sharad, Yajuvendra Pratap Singh, and Amitabh Acharya in important roles. Music released worldwide by Red Ribbon Music Company, The music and Trailer of the movie was well received by the Guests.
Asrani, Sanjay Singh, Natalya llina, Kiran Sharad, Amitabh Acharya, Director Suzad Iqbal Khan, producer Kishor N Patel and Jignesh Shah , music director Biswajit Bhattacharjee along with Vinod Nishchal of Rich Junior Entertainment were present during the launch event.
Director Writer Sanjay Chhel , Actor Ajaz Khan also present as guest at music launch. Produced by Kishor N Patel, Sunil Patel and Jignesh Shah , under the banner Deepa Krishna Production No. 1 & Sunny World Wide Films, directed by Suzad Iqbal Khan, "Murari The Mad Gentleman" is scheduled to release on 11th March 2016.
Red Ribbon acquired the music rights of the film which has some amazing tracks. The album includes five songs, the first song "Raabta" sung by Sonu Nigam is a soothing melody with sentimental lyrics, second song "Tera Deewana" is a romantic number with Hindi & English lyrics, third song "Shabbo" is an item number sung by Mamta Sharma, 4th & 5th song i.e. "Udi Udi" & "Udi Udi Duet" sung by Krishna Beura, Shahid Mallya & Khushboo Jain respectively are happy mood romantic songs. Music is beautifully Composed by Biswajit Bhattacharjee 'Bibo' and lyrics by Krishan Bhardwaj.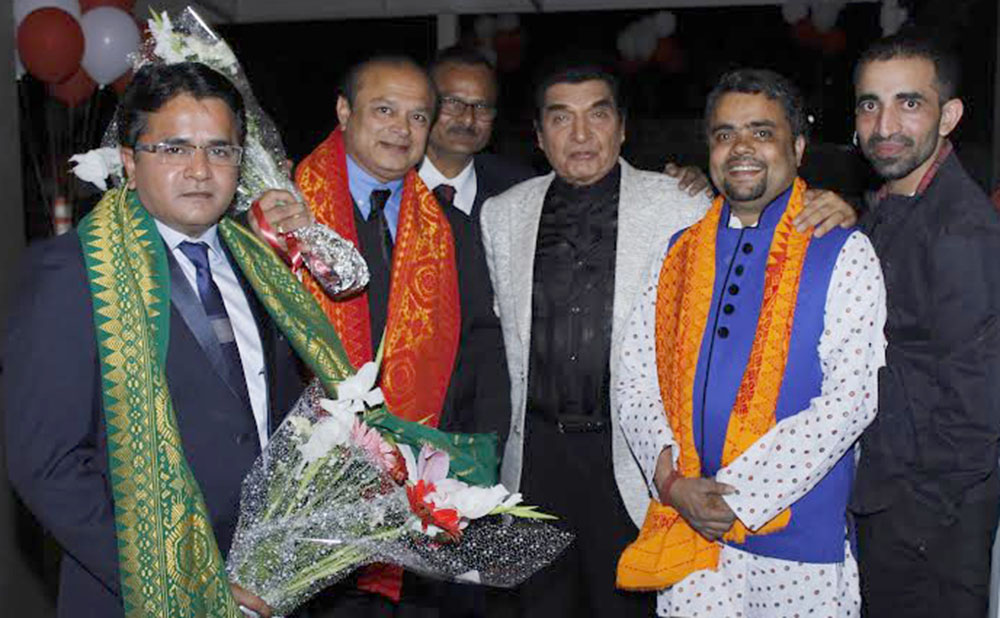 Rich Junior Entertainment will distribute movie worldwide. Director Suzad Iqbal Khan was over-whelmed with the reaction and he said, " The Character Murari is very close to my heart as this makes us realise that Humanity still exist, and upon this the music says it all, The lyrics, the beats The whole music is just fantastic. I really look forward for the love for this film and its music. "
Lalitya Munshaw of Red Ribbon said, I was impressed when I listened to the music first time and immediately decided to acquire the Music of "Murari- The Mad Gentleman", we are going to do lot of promotion of this music because I know it is going to touch many hearts and so music will receive tremendous response from all over. The music will be available across all leading digital and physical stores worldwide.