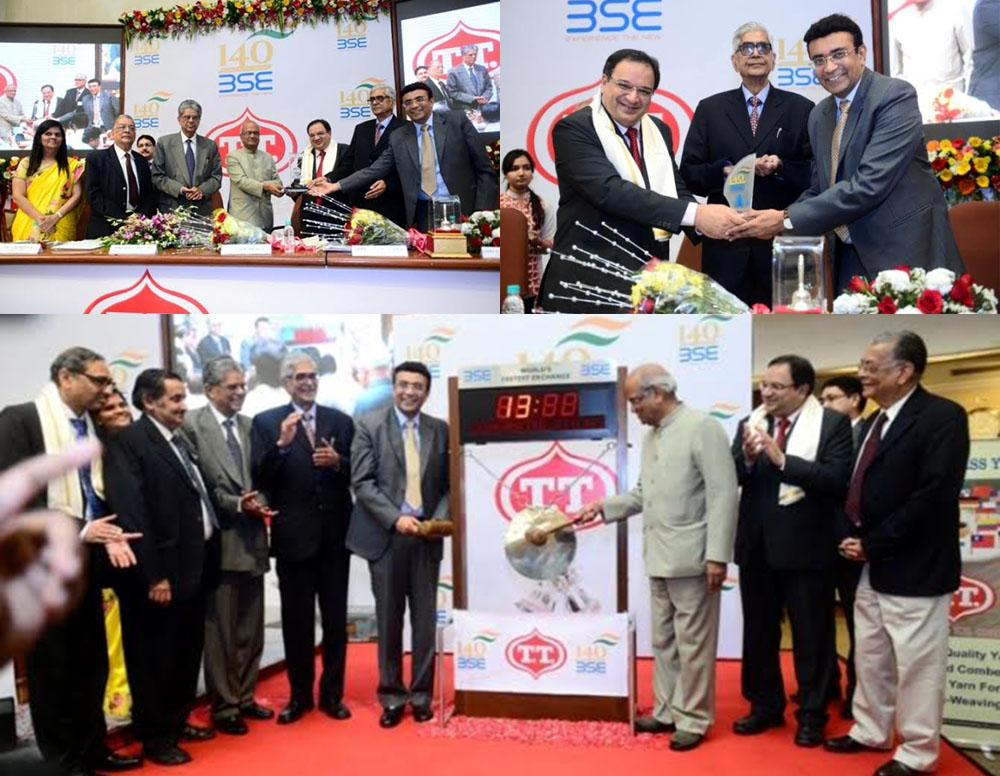 T T Ltd., a leading textile player, celebrated the completion of 25 years of public listing by ringing the Silver Bell in Bombay Stock Exchange. The glittering function hosted by Chairman-Founder Dr. R. C. Jain was presided by Padma Bhushan awardee Shri D. R. Mehta (ex-SEBI Chairman) in the International Convention Centre of BSE in Mumbai.
Apart from the Chairman of the Company, Shri Sanjay Jain (Managing Director, T T Ltd.) and Smt. Jyoti Jain (Jt Managing Director, T T Ltd.) the gathering was addressed by Shri Nayan Mehta (CFO, BSE), Padma Shri V. R. Mehta (Independent Director) and Chief Guest Shri D.R. Mehtaji. Other dignitaries include Shri Navratan Dugar (Director, T T Limited), Shri V. K. Kothari (Director, T T Limited), Shri Mahesh Mehta (Independent Director) and Shri Sunil Mahnot (Director Finance, T T Ltd.).
The Company's management announced their plans to launch a premium innerwear brand in the near future as part of their new strategy to move towards the fashion side of the fibre to fashion spectrum. This move will help enhance margins and build the brand equity of the Company. The Company has enhanced their knitwear range to become a garment company from an innerwear company.
Chairman and Founder of T T Group, Dr R C Jain explained the journey of the Company and its evolution as a Fibre to Fashion Company as it spread its wings not only across India but also across 65 countries. Brand T T under which all products are sold has become a well known brand with registrations in India and many other nations. He paid special emphasis on the principles of the company and its employees who have been the two important pillars on which the Company laid its foundation and grew. He humbly accepted that, "I wasn't self made as said by many, but was made by all the people who walked with me over the long journey spanning almost 50 years." He also dispelled the belief that T T was a family managed company, and said that it was as professional as any other company if not more. It has the distinction of having 3 IIM graduates on its Board, one IIT Professor, 3 qualified professionals and a
NIFTian. He also shared his 3 inspirations – Father of Nation Gandhiji, Saint Kabir and Poet Thiruvallur.
Managing Director Shri Sanjay Jain laid down the vision and roadmap of the Company with clarity and crispness. He exuded confidence and commitment to take the Company to new heights. He said, "Both, the Company and the Indian Textile Industry was at a very important threshold from where we would see both coming out with open wings like a butterfly comes out from its cocoon to dazzle the world with new colors and life."
Shri Jain felt opportunities for the Company were enormous and the only limiting factor would be human resources. He further said that, "Going forward the Company would focus on value addition and brand building to create a strong portfolio of product lines to address the need of the middle class people of India. Value for money which has been an important principle of the company would continue to stay so in the years to come. Volume growth and occupying market space would be given special focus to ensure it reaches out to the heart of India."
Shri Jain added, "T T Ltd. plans to be a 50:50 Company in terms of exports and domestic sales. Hence, going forward, focus is going to be on more value added garments business, brand building and focusing on the domestic market – which is the fastest growing opportunity for us. Our network in rural and semi urban markets is expected to pay rich dividends to us. I would like to highlight our growing business in China – we see our cotton based textiles business growing rapidly. Vietnam, Ethopia and the United States also provide interesting opportunities. We shall make structural and organizational changes to target higher growth rates of 20-25% per annum."
T T Ltd. has to its credit many firsts in the industry, one of which is that it was the first garment company to get listed on a stock exchange in 1990.
Joint Managing Director Smt. Jyoti Jain while welcoming everyone said, "The Company wants to deliver value to everyone connected to it and the endeavour is to always connect the dots to create a happy and peaceful fraternity around it." She further said, "The Company wants to march ahead joining hands with each and every person."
Emphasis over time would shift down the line I.e. Away from fiber and closer to fashion to reduce the beta of the company fortunes and ensure more stability. While it would not close its eyes to exports ever, however it would lay more emphasis on domestic market (hope to move to a 50:50 ratio).
The function ended with the "Ringing of the Sliver Bell" which in words of the Mrs Jyoti Jain, JMD, "This ceremony doesn't mark the completion of 25 years, but the beginning of its journey to a Golden Horizon I.e. Golden Bell."
The recent awards in last 3 years – Master Brand (2012), India Top 100 SME (2013 & 2014), India's Small Giant Award by Honourable Cabinet Minister (2014), Silver Trophy for Yarn Exports by Honourable Cabinet Minister
(2014) and India's Promising Brand (2015) all show more promise and hope for future than a pat for the past.
Last but not the least the Company is fully conscious of its responsibility to society and its CSR spending has always been much above the recent norms set by statute. It reaffirmed its commitment to reach out to society in field of education, health and sports etc directly and through its Group Charitable Trust.